Welcome to Kalamazoo Aikikai–Mitsubachi Dojo! We offer training in the Japanese martial arts of Aikido and Iaido, as well as Zazen meditation.
Practice at Mitsubachi Dojo focuses on individual and community realization, rather than competition. The true path to victory, as O-Sensei said, is found in one's own self. The purpose of our training in Aikido, Iaido, and zazen is to cultivate the self-knowledge that ultimately leads to self-transformation and personal freedom.
Anyone who is interested in training at the dojo is welcome, irrespective of sexuality, race, religion, or physical limitations. If you are considering joining the dojo, you are encouraged to visit and watch a class first. We are located at 509 Mills Street in Kalamazoo. The dojo entry is at the north end of the building (toward Kings Highway). If the front door is locked during class hours, text or call (231) 735-2005 to be let in.
If you want to get in touch, or you have a question that is not answered on the FAQ page, send an email to [email protected].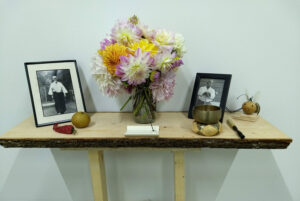 CLASS SCHEDULE
Aikido
Tuesday noon – 1 p.m. Women's Class
Wednesday 6 – 8:00 p.m. 
Thursday noon – 1 p.m. Women's Class
Friday 6 – 8:00 p.m.
Saturday 10 – 11:15 a.m.
Iaido
Tuesday 6 – 8:00 p.m.
Thursday 6 – 8:00 p.m.
Saturday 11:30 a.m. – 1 p.m.
Zazen
Saturday 9 – 10 a.m. (please bring your own cushion)
FEES
Monthly membership dues of $80 cover all Aikido and Iaido classes. These fees are strictly in support of the dojo and its programs, and are not income for the instructor. Annual membership fees for Birankai North America (Aikido) and GNEUSKF (Iaido) are not included in monthly dues.
Zazen meditation is offered on a donation basis. Anyone from the community is welcome to come sit with us.
Out-of-town visitors can pay a mat fee of $10 to train. This fee is waived for members of Birankai North America dojos.
COVID-19 PROTOCOLS
Anyone training at Kalamazoo Aikikai-Mitsubachi dojo must be fully vaccinated. This includes Zazen meditation.
Masks are required for all classes until further notice.
These guidelines may change as the circumstances of the pandemic evolve.